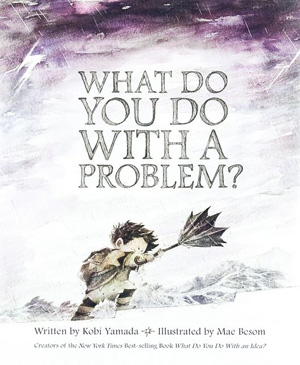 What do you do with a problem that won't go away and only seems to follow you around? That was the question the Foundation Phase learners were talking about during Book Club Hour at Thorntree Preparatory School today.
What DO you do with a problem? Do you scowl it? Do you shoo it? Do you just ignore it?
But why is it here? What does it want? Will it help to just wish it away or hide from it?
Will worrying about it make it go away?
This wonderfully illustrated picture book (What do you do with a problem, by Kobi Yamada, ISBN: 9781943200009) takes the reader on a journey through a child's mind when dealing with an unexpected problem.
It helps the reader understand that sometimes we make our problems bigger and scarier than it actually is, and that facing the problem usually reveals that it isn't what we thought it was to start off with.
Worrying only feeds a problem and sometimes makes it grow to a size that is overwhelming. But facing the problem – and speaking about it – on the other hand, will reveal that every problem inside itself has its own solution – you just have to look for it. You will find something beautiful, that is, an opportunity to learn, to grow, and to be brave.
The students simply loved the illustrations by Mae Besom, and let out a few ooh's and aaah's while listening to the story.
It is a wonderful addition to any library.
Preview the book here: