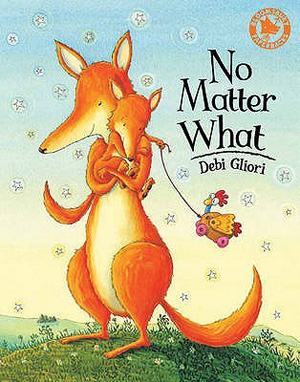 ISBN: 9781408850008
Would you hug a bear? Would you hug a bug? What about a crocodile? Little Small is grim and grumpy and small and feels that nobody loves him at all! But his mom gives him the assurance he needs that even if he turns into a bear… or a bug… or a crocodile… she will always love him, grumpy or not! This is a wonderful, warm tale perfectly portraying a parent's unconditional love for his/her child.
There are lots to be seen in the illustrations about that unconditional love – what the parent does to prove that love – brings the Little One food, not minding if he makes a mess or accidentally destroys a book; she helps him fix his toy, they read a bedtime story together, and they watch the night skies together!
Sometimes kids act out and we don't really understand why – and it can be caused by something simple as "I'm grim and grumpy little Small and nobody loves me at all."
This is the book we read at our Kids Book Club Infant & Toddler Story Time this week! And the kids could totally relate to little Small's acting out when he was feeling "grim and dark". But they agreed that we always feel better after a hug and we are told that we are loved!
So we created our own glitter hearts to always remember we are loved! We painted hearts cut from heavy duty cardboard with glue, and sprinkled it with glitter!