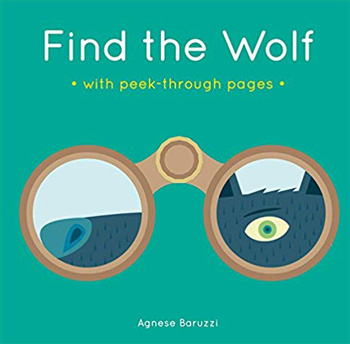 ISBN: 9781684121762
Here is a wonderfully interactive and engaging read for little ones!
It is a board book with die cut, peek through pages (in the shape of binoculars) that let the reader guess which part of the wolf's body might be peeking through the openings… is it the wolf's pointy ears, his eyes, his paws? is it his fur? Or are only the forest animals in view?
Cleverly woven into a journey through the forest, the reader is to find the wolf in each picture, but also throughout the book, leaving the reader with a little surprise in the end!
This was the book we read at our Kids Book Club Infant and Toddler Story Time this week after we played a fun game seeing what we can find with our "binoculars"! What fun!