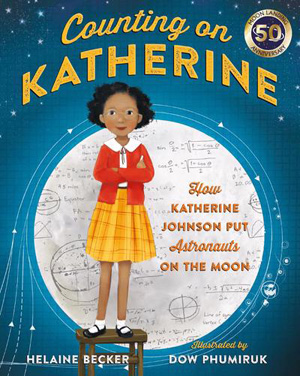 The Foundation Phase (Gr1-3) at Thorntree Preparatory School enjoyed a true life story about Katherine Johnson today during Book Club Hour.
Katherine loved counting! She counted everything… the steps down to the road, each step she walked, the number of dishes she washed… she just loved numbers! She always wondered whether the stars could be counted, and she wondered what else (other than the stars) was out there? She had a very inquisitive mind, and her hunger for knowledge caused her to be a star student. So much so, that she could be admitted to high school when she was only ten years old!
But Katherine had to face a lot of prejudice and discrimination. First she wouldn't be admitted to high school because of her skin colour. Later she wouldn't be accepted because she was a woman! But despite the unfair treatments she faced, Katherine Johnson kept dreaming and learning and working hard, and eventually succeeded in following her dream to be a research Mathematician, when she was finally accepted to work at NASA!
Here she proved more than her worth when her calculations helped send the first American astronauts into space, and later to calculate the flight paths for the first flights to the moon. She also rescued the crippled Apollo 13 spaceship and brought it safely back to Earth using her mathematical calculations and skills.
The report on Katherine Johnson is positive and admirable, for, even though she was a "star" herself because of her many achievements, she never liked to take any credit for herself. She said, "We always worked as a team – it was never one person".
This picture book (Counting on Katherine by Helaine Becker, ISBN: 9781529005592), and maybe Katherine's life as well, teaches all readers perseverance, to follow your dreams, and the immense value that teamwork offers. It also fitted in perfectly with our Habits of Mind (#15) – Thinking Interdependently – Team Work! (Being able to work with and learn from others), so the students were encouraged to find a way to work together more effectively in their own classrooms to help and build one another up, and ultimately to create a stronger community.
Katherine sadly passed away on 24 February 2020 at the rich age of 101, leaving us her very touching legacy!
Meet Katherine: