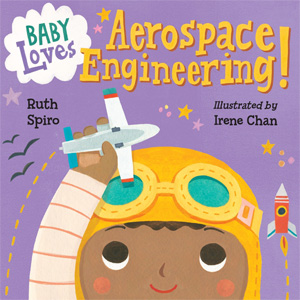 ISBN: 9781580895415
You might think aerospace engineering is a bit big for infants and toddlers, but in fact, all it refers to are things that fly and how they do it! Ruth Spiro ingeniously put together the basics of flight in story-form for the very young! The book is interesting, keeping the reader's attention with simple, short sentences. The illustrations are fun and visually stimulating, and it contains life!
Can Bird fly? How can she fly? Do airplanes fly in the same way birds do? Can Bird fly to outer space? All these questions are answered in this lovely picture book, bound to stimulate those inquisitive minds and encourage that sense of wonder! (The book is meant for "tiny aspiring scientists"!)
We read this book, meant for "For tiny aspiring scientists", at our Kids Book Club Infant and Toddler Story Time this week, and the kids loved it!
"The skills that young children develop from exploring Science, Technology, Engineering and Math (STEM) help them to become better problem solvers, contributing to their success both in school and as life-long learners."
And because spatial thinking is an important skill linked to success in Math and Science, we also did a quick craft, first reviewing shapes, and then each child created a picture of his room as viewed from the top (if Bird would look down into the room, what would she see?)

Read more about the Baby Loves Science book series here.
Listen to author Ruth Spiro discuss the Baby Loves Science Series on Charlesbridge Unplugged.