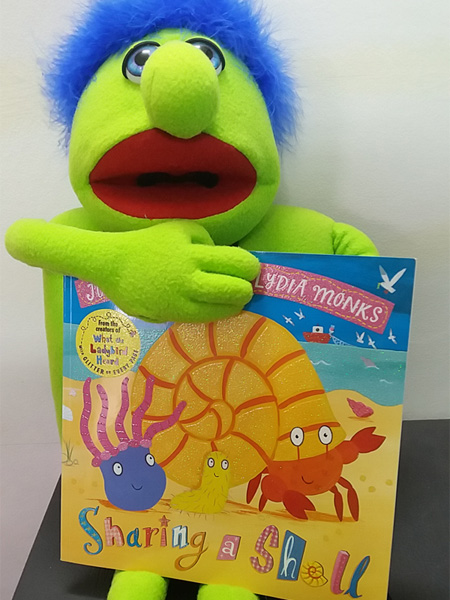 Zorb (at last) made a surprise appearance today at our Book Club Hour for Little Sprouts (Gr R &RR) at Thorntree Preparatory School! Back from his vacation at the seaside, he was thrilled to be in time to listen to a story about the sea and some of its creatures!
In "Sharing a Shell" by Julia Donaldson (ISBN: 9781509862702), Crab needs a home, but finds no-one is sharing! So, it is easy to understand, when he finds an empty shell, he too doesn't want to share. It is not long, though, before he gets a few visitors who offer their services in exchange for a space in the shell. The three friends happily rollick "all around the rock pool in their wonderful home for three", until they outgrow it and a carelessly spoken word causes them to go their separate ways. What will it take for the three friends to be reunited? A bigger shell perhaps?
Zorb was absolutely ecstatic to announce that he actually loved sharing – "sharing your ice-cream, and sharing your sweeties, and sharing your toys, and…", but he had to, just like the crab, learn that sharing goes both ways – you can't just receive, sharing also means giving!
This lovely picture book, with its vibrant images and easy text, is a feast for a pre-schooler's eyes! The applied glitter throughout the book's pages makes for a wonderfully tactile experience while listening to the story. The kiddies just loved it! And they were happy to have Zorb learning together with them about sharing!

Preview the book here: