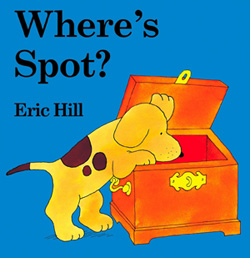 ISBN: 9780399240461
Spot is missing – and he hasn't eaten his supper! His mom sets off on a search throughout the house to find him, but finds all sorts of other animals instead!
This lift-the-flap board book keeps little readers engaged to see where Spot would be – is he behind the door? or inside the clock? or under the stairs? It is a brilliant, interactive read for toddlers, keeping their attention and interest with lively illustrations and short to-the-point text, and all sorts of animal surprises while trying to find the little pup. The story introduces and/or reinforces prepositions (behind/inside/in/under) in a playful way.
This is the story we read at our Infant and Toddler Story Time this week, but the book is fun even for older (preschool) kids, who can't wait to see what's hiding under the flaps!