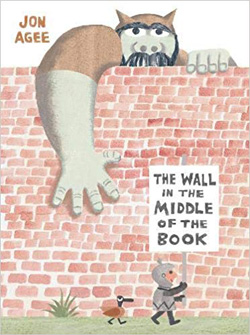 We kicked off our Kids Book Club Infant & Toddler Story Time for 2020 with a story called The Wall in the middle of the book (by Jon Agee, ISBN: 9781912650057). It is an engaging ("thinking") picture book that tests observation skills (even of adults)!
A little knight maintains a wall which runs down the center of the double page spread in this fun book. He knows he is safe from the other side of the book because of the wall. Who knows what creatures he might encounter on the other side – especially that ogre who is "going to eat me up"! But things are not always as they seem, and the young knight's perspective is changed when that same ogre rescues him when he's in trouble. The irony and drama in the illustrations make this book brilliant, appealing even to those who cannot read themselves yet. And as an added bonus, the book addresses the fact that we sometimes judge people even before we get to know them (because of preconceived ideas), and keep strangers at a distance!
After learning about knights and castles, and reading the story we had some fun painting our own shields while learning to share!
What a fun time we had!