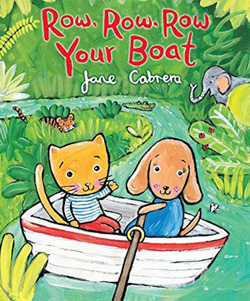 ISBN: 9780823433025
This new take on the classic children's song warms the reader's heart. Two little ones set off on a boat ride down the stream and observe many animals.
Kids can squeek, bark, roar and chatter along while uncovering all the animal surprises contained on each rainforest-themed page in a lively picture book dedicated to "all our planet's disappearing forests".
This is the book we used to sing the song at our Infant & Toddler Story Time today!
Sheet music with guitar cords and lyrics are included in the back of the book.
Other titles in the series include Here We Go Round the Mulberry Bush, If You're Happy and You Know It, and One, Two, Buckle My Shoe.