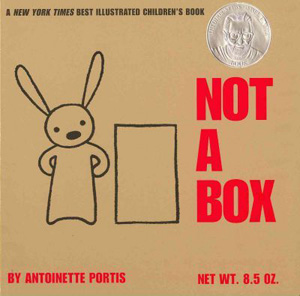 ISBN: 9780007254804
Dedicated to children everywhere sitting in cardboard boxes, this beautifully designed book is a celebration of the power of imagination. A simple object like a box can keep children engaged for hours, because it can become anything the imagination can present.
A little rabbit's box magically transforms into a racing car, a mountain peak, a building on fire, a robot and even a rocket ship. The illustrations tell the story from the first title page in the book, right through to the end, and even the outer cover is made of rough "cardboard box", giving that extra touch to the story, complete with THIS SIDE UP on the back cover, and the net weight on the front!
The book won a 2007 Theodor Seuss Geisel Award Honor and a 2008 Donna Norvell Award.
We read this story at our Infant and Toddler Story Time this week, learning about things that start with the letter B!