A funnel is not just a funnel, it is a party hat and a unicorn horn and a wine glass and a measuring cup…
Neither is a pen just a pen, but it is also a cage door support and a beam to let toy cars pass through a "toll gate" and a hair decoration…
Flexible Thinking (Habits of Mind #4) encourages us to look at things another way – being able to change perspectives, generate alternatives, consider options, adapt to new situations, improvise and shift strategies to meet different types of challenges. Flexible thinking helps people to get along with others, it helps groups to be more effective, and it helps people to solve problems and/or try new ways of doing things.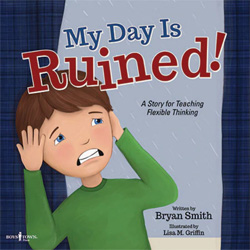 That is what the students at Thorntree Prep learned and discussed during our Book Club Hour this week. We then read a book called My Day is Ruined by educator and school counselor Bryan Smith (ISBN: 9781944882044). It is another excellent Boystown Press book that introduces the Habits of Mind and other life skills brilliantly!
Braden finds it very inconvenient and annoying that everyone seems to be out to ruin his day. There HAS to be a fire drill while he's busy with a good book… there HAS to be rain when he wants to beat the other team at baseball… he HAS to show more than one way of solving a Math problem… It is utterly frustrating, and as is the norm with children, he overreacts.
This book offers practical steps to apply flexible thinking in our daily lives, helping children learn to manage their emotions. It also offers some practical advice for parents and educators on how to assist children in learning this valuable skill.