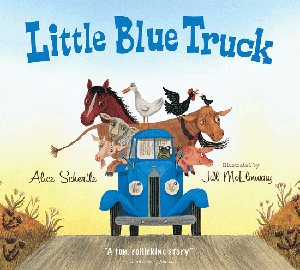 ISBN: 9780544568037
What a wonderful little book to teach kids about making connections in our everyday lives because we might need one another at a later time!
Little Blue Truck is very friendly and as far as he rides he greets everyone – the big green toad, the sheep, cow and pig, and all the animals greet back, happy to see Blue. Road hog Dump Truck rushes passed, "I haven't got time to pass the day with every duck along the way!" he yells. He ROOOM!s around the curve and tries to swerve out, but gets stuck in the mud. Because of his unfriendliness nobody wants to help him out, except exceptional Little Blue Truck. But Little Blue Truck is rather small compared to the dump truck, and while he tries to help him out, he himself gets stuck as well! Little Blue calls for help, and everybody lends a helping hand to get him out, and the Dump Truck learns that making friends is a valuable asset.
Read at our Infant and Toddler Story Time today!