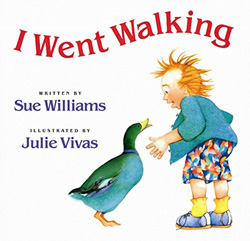 ISBN: 9780152380113
Illustrated by Julie Vivas
Following in the same theme as Eric Carle's Brown Bear, Brown Bear, what do you see? (also Polar Bear, Polar Bear, What Do You Hear? (zoo animals); Panda Bear, Panda Bear, What Do You See? (endangered species), and Baby Bear, Baby Bear, What Do You See? (North American animals)), I went walking explores farm animals, and is designed to help little readers associate colors and meanings to objects.
The main character in this story puts on his coat, and he's off on his walk. Each page contains a clue in the illustrations as to what animal the little boy will encounter next, making it an interesting and engaging read for little kids, who excitedly guess which animal will come next. The illustrations of the love and enjoyment the main character displays toward the animals he encounters are striking!
Adding animal sounds as each page is turned makes for a fun read-aloud. This made our Infant and Toddler story time fun this week.