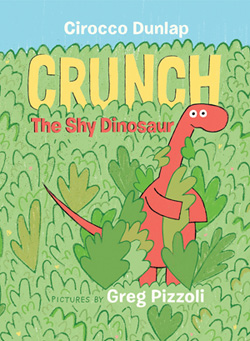 ISBN: 9780399550560
The Brontosaurus on the cover of this book is very shy. He doesn't leave the bushes often, so the reader who sees him is very, very lucky! Even though Crunch is a very shy dinosaur, he is very friendly, and if the audience of the book would like to meet him, they should follow the lead of the reader. And if they do, there is a pretty good chance they'll end up with a new friend!
This is a lovely interactive picture book that engages little readers in the story. Crunch wants to play, but he's very shy. They have to help the reader lure the shy dinosaur from the bush with a kind "Hello", and singing him a song, but not too loudly, and not too quickly, or he'll be scared into a tree! It is a fun way to introduce making friends to little children, addressing things like minding personal space and demonstrating interest in another's hobbies.
We read this book at our Kids Book Club Infant and Toddler Story Time this week! And then we painted our own dinosaurs! Oh what fun!