Children of the Longhouse is a story that gives a well-developed picture of customs and beliefs in the early lifestyle of Native Americans. Annual festivals, daily rituals and legends are well described, and the use of Native American names for the characters create a brilliant atmosphere drawing the reader into the world of Native American life many moons ago.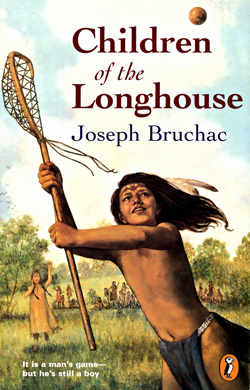 Ohkwari, an eleven-year-old boy, shows integrity and leadership skills when he overhears the plans of some older youths to raid another village they've been at piece with for a while, and tells the elders about it. This is a good starting point to discuss character traits with children, doing the right thing when it is in one's power to do so (and not the nice thing), and the consequences that righteous acts might bring.
Well written, easy to read, story form that opens discussion about forgiveness and doing right, instead of being selfish and wanting to follow only your own head regardless of who might be affected by it.
The book is suitable for read-alone ages 8-12, but younger children might have trouble pronouncing some of the names, and making sense of the use of the names in some sentences.
This is a great book to go along with a Native American unit study.
ISBN: 9780140385045
I created a list of review questions and their answers, which you can download using the link below. There is also a student sheet, meant for revision, that students can complete instead:
Children of the Longhouse Review Q&A
Children of the Longhouse Student Sheet

This was one of the first books I used with chapter summaries in order to promote writing with my reluctant writer. See what I did here.