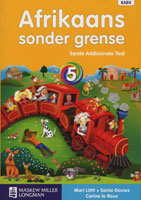 The Afrikaans Sonder Grense Curriculum is a complete language series for learning Afrikaans as 1st additional language. The lessons are short, and explained well – well enough for a learner to complete independently.
Every chapter is divided into short lessons that include writing exercises (language as well as longer text, e.g. paragraph writing, diary entry, invitation card etc.), some songs and jokes, revision exercises, stories and comprehension questions, and dictionary exercises – all this is accompanied by colourful pictures to associate with the new words/terms learned.
Although this book is written for classroom teaching, it can be used for home education. It is also written for group settings, but it can be adapted to even an only-child setting (Mom or Dad can also jump in as part of the "group" when roleplay is learned!). Kids who get to do with Afrikaans speaking people regularly will obviously find the exercises easier, but all the instructions are in Afrikaans, so I wouldn't recommend it as a self-study guide for lower grade children (even up to grade 4).
The Learner's Book (Leerderboek) ensures, according to the authors, bettering the listening, speaking, reading and writing skills of the learner. Children learn the basic structure of Afrikaans, expand their vocabulary and learn to apply it in context.
I created an "extras" book to record new terms learned. View my article and download *my original creation* for free here.
The Afrikaans Sonder Grense Onderwysersgids (Teacher's Guide) accompanies the Learners Book. It includes a CD with pre-recorded songs and information texts, and I don't know if it is standard, but mine was accompanied by a workbook with remedial and enrichment exercises (photocopy-able worksheets and answers).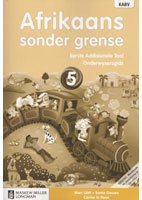 The Teacher's Guide, as the name suggests, guides the teacher through the lessons and gives ideas on how to teach them. I used mine to draw up a schedule for the year, but because I'm fully bilingual, I rarely used the Teacher's Guide. It contains answers to the exercises in the Learner's Book, as well as Formal Assessments (tests and exams), together with their answer sheets (for the teacher's eyes only…!) But again, if you're having trouble with Afrikaans yourself, this will not be helpful, because the whole book is written in Afrikaans with no English explanations.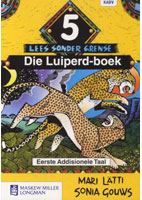 The Lees Sonder Grense – Die Luiperd-boek is a reader that accompanies the Afrikaans Sonder Grense Curriculum. It is not required to be able to complete the Learner's Book, but it gives extra reading practice of a variety of genres. The Teacher's Guide suggests when to use this book to fit in with the Learner's Book, but again, you can work through the Learner's Book without the Teacher's Guide, but then you won't have the tests and their answers, and neither the answers to the exercises in the Learner's Book and the Luiperd-boek.
I must be honest when I say I don't like the school approach for home education. I think it is rather boring to have an exercise book with lots of scribbles and a picture or two. I tend to let my son rather create a Notebooking Page with the information he learns in these books, and collect them in a file where he can easily access them for review. They are much more visual. Below are some examples:
| | |
| --- | --- |
| | |
| | |
View other books we used for Grade 5