And just like that, we've reached the last of our official Book Club meetings for 2019!
Time flies, and that is why reading yourself and reading to your children from an early age is so very important. With a blink of an eye, children are all grown up, and our chance to impact their learning is likely over. It is our privilege and responsibility to expose our kids to the treasures captured in book form. This is exactly what Speech Therapist Faadhilah Tayob talked about at our meeting today…
"There is a strong link between language, literacy and cognition (acquiring knowledge and understanding through thought, experience, and the senses), and that is why it is important to mind the quality of the experiences to which the child is exposed". This exposure starts at home, and one of the simplest things to do is to make all kinds of books available to your children.
Reading of picture books, for one, "provides children with many of the skills that are necessary for school readiness: vocabulary, sound structure, the meaning of print, the structure of stories and language, sustained attention, the pleasure of learning, etc. Pre-schoolers need food, shelter, love; they also need the nourishment of books", says Faadhilah.
Reading is an important skill that needs to be developed in children. But reading is hard work! And some people give up trying before they discover the wonder of stories captured between the covers of a book. Even voracious readers sometimes shy away from challenging books, but they should be brave and unlock the wealth contained in it… as we did at our Kids Book Club meeting today!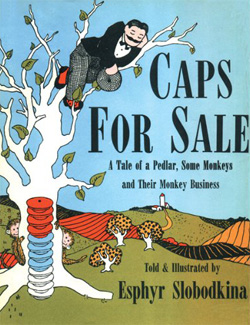 We read a story called Caps for Sale by Russian-American artist, author, and illustrator Esphyr Slobodkina (ISBN: 9780064431439). It is about a peddler trying to sell his caps. But this peddler doesn't carry his wears in a backpack or around his neck, he carries it all on top of his head! Needless to say it is a call for trouble, and that is just what he gets when he wakes up from a (long) nap and finds the hats all gone! Oh, what will he do? How will he get his hats back from a bunch of naughty monkeys?
It is a wonderfully fun story. But here's the catch: it is a classic. A classic book is a book "that has never finished saying what it has to say." (Italo Calvino). It is a book accepted as being exemplary or noteworthy, usually listed on a list of "great books", and is worthwhile to read and study in the history of human life.
A classical story might contain words and references not easily used in a reader's current (modern) language, and thus may make it a touch more difficult to understand. It requires more thought, concentration, diligence, patience, and appreciation …
But here are some reasons why you should expose your child to Classic Literature (and read it yourself!):
Classic Literature
teaches life lessons and inspire readers
builds vocabulary
improves writing skills
inspires modern writing
incorporates and teaches historical and cultural knowledge
stimulates critical thinking (which modern technology kills…)
stimulates imagination and thought
inspires learning about the author's life (and how it gave influence toward his work)
teaches about the lifestyles of other people (usually through the different characters and their unique backgrounds)
transforms the reader's understanding of self
adapts itself to various times and places
doesn't get old
develops a sense of pride, unity and love for times past and present
stimulates a sense of hope, courage and problem solving (as the reader experiences the characters' life struggles)
stimulates a sense of accomplishment (when the "difficult" book is completed!)
If you'd like to know which other classic books to read to your children, you can start here: 50 Must Read Classics for Kids
Based on a folktale, Caps for Sale is a popular read-aloud book. Its repetitive text allows kids to say the lines and so join in the reading experience. It won a Lewis Carroll Shelf Award in 1958.