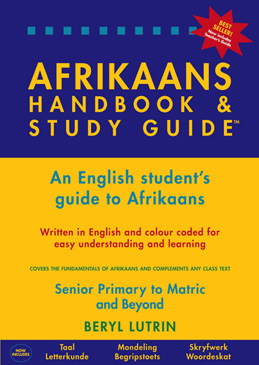 I have a very reluctant 13-year-old, especially when it comes to reading or studying Afrikaans as second language. So I got a hold of the Afrikaans Handbook and Study Guide, which is a compilation of rules to understand, speak, read and write the Afrikaans language easily.
The Afrikaans Handbook and Study Guide covers Language (Taal), Comprehension (Begrip), Writing (Skryfwerk), Literature (Letterkunde), Oral Communication (Mondeling), and Vocabulary (Woordeskat). It also includes sections with Hints to improve your Afrikaans, Ideas for Teachers, Teaching Afrikaans in Context, Teacher's Guide, and a Guide for Themes. The rules and explanations are all in English and are colour coded, which makes it a good book for independent study.
Since my son DOES study independently, I put together some tests for use with the Afrikaans Handbook and Study Guide, so I could see whether he understands and remembers what he learned. You can download these PDF files at the bottom of this page.


Explanation of the files:
The PDF files contain a test that can be completed (filled in) by the student, as well as the answers to the test. Some files have more than one test, this is simply because there were so many words on the pages in the book, it allowed for separate tests to be set up. They can be used for siblings learning the words together. Both tests' answers are included in the memorandum that follows the tests in the PDF file. It is not necessary that one student completes both tests, unless you prefer it.
The "spelling tests" don't have words printed on them, but you as the tutor can read the words from the memorandum for the child to complete on the test paper. The tests can be printed back-to-back and bound in a test booklet, but keep in mind that the child will have access to future tests then. At times, especially starting off, you might prefer to hand out the test sheet and simply let the student use the Afrikaans Handbook and Study Guide to complete it. Learning still happens this way.
Each test has a reference at the top of the page to the pages that had to be studied throughout the week (in the Afrikaans Handbook and Study Guide (AHS)) and are being tested in the applicable test.
If you choose not to pre-print all the test papers and bind in a booklet, you could store completed tests in a 2-ring binder to keep it all together, and for grading purposes if you'd like.


The Schedule
The printed columns of words on the pages allowed for splitting the words into smaller groups, which I used to assign a section for everyday learning.
I will include a copy of our schedule for use as reference for anyone who is interested.


Afrikaans Reading, Comprehension & Discussion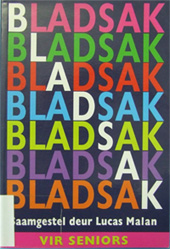 In addition to the Afrikaans Handbook and Study Guide, we are also using the book Bladsak, compiled by Lucas Malan. This book consists of some poetry and short stories. Each poem and story (each lesson if I dare call it that), includes a little bit of background information to the poem/story/author, word definitions, as well as some discussion questions.
The Afrikaans Handbook and Study Guide gives tips on Afrikaans comprehension and speaking, which can be introduced to students if need be.
Conclusion
I really just wanted my son a little more exposed to the language, since he'd given up reading Afrikaans altogether a few years ago. We're using it for his Grade 8 year, but I suppose one can use the tests for any year using the Afrikaans Handbook and Study Guide as source book.
The Afrikaans Handbook and Study Guide is aimed at upper primary and High School ages.
So, without further ado, here are the files for your convenience:
Downloads

Afrikaans Toets Week1
Afrikaans Toets Week2
Afrikaans Toets Week3
Afrikaans Toets Week4
Afrikaans Toets Week5
Afrikaans Toets Week6
Afrikaans Toets Week7
* Week 8 = Oral Test (See schedule)
* Week 9 = Oral Test (See schedule)
* Week 10 = Oral Test (See schedule)
* Week 11 = Oral Test (See schedule)
* Week 12 = Oral Test (See schedule)
Afrikaans Toets Week13
* Week 14 = Oral Test (See schedule)
* Week 15 = Oral Test (See schedule)
* Week 16 = Oral Test (See schedule)
Afrikaans Toets Week17
Afrikaans Toets Week18
Afrikaans Toets Week19
Afrikaans Toets Week20
Afrikaans Toets Week21
Afrikaans Toets Week22
Afrikaans Toets Week23
Afrikaans Toets Week24
Afrikaans Toets Week25
* Week 26 = Oral Test (See schedule)
Afrikaans Toets Week27
Afrikaans Toets Week28
Afrikaans Toets Week29
Afrikaans Toets Week30
Afrikaans Toets Week31
Afrikaans Toets Week32
Afrikaans Toets Week33
Afrikaans Toets Week34
Afrikaans Toets Week35
Afrikaans Toets Week36
Afrikaans Toets Week37
Afrikaans Toets Week38
Afrikaans Toets Week39
Afrikaans Toets Week40

Afrikaans Schedule 2018